News and Events Page
This page details previous events, for details of scheduled forthcoming events please see our open days page.
29 June 2013
Nutley Village Day
The railway attended the annual Nutley Village Day fete which was the first outing for the recently rebuilt Lewes Castle running a busy service on the hottest day of the year so-far. Lewes Castle ran at Nutley back in 2011 (see photo further down this page) but has since been partially rebuilt and repainted and is likely to be seen both at other publicity events such as the forthcoming Uckfield Festival and running at Bentley later this summer.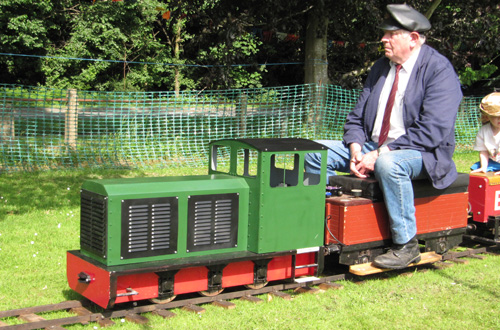 ---
1 April 2013
A new loco "Ruston"
Easter seems an appropriate time to welcome a new member to the Bentley family of locomotives and despite the date, this is no April fools, "Ruston" is a new loco built mainly on-site by our junior section, under the watchful eye of our more experienced members utilising many recycled components and a number of others fabricated on-site. This battery electric loco is likely to be used primarily for departmental purposes such as training and hauling freight trains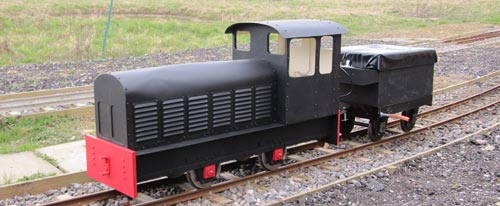 ---
28 March 2013
Easter is coming
Easter is early this year with Good Friday being 29th March 2013. The railway will be running all 4 days to mark the start of our summer season, if the weather is nice we hope that our local teddy bears will come and enjoy a picnic again this year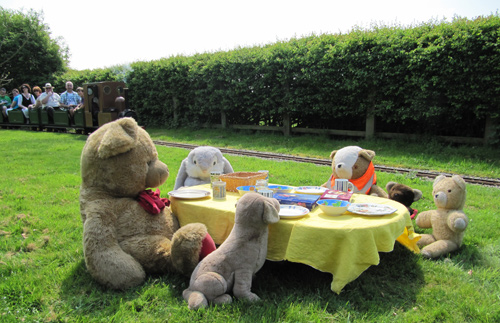 ---
30 June 2012
Nutley Village Fete
The club attended Nutley Fete again this year with a Class 12 which provided passenger rides to the shows visitors on a beautiful summers day.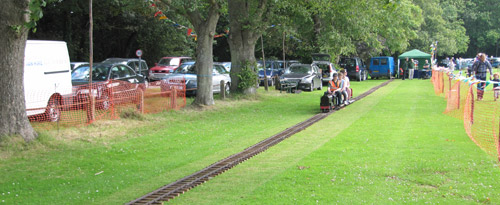 ---
26 February 2012
Brighton Modelworld 2012
The club attended Brighton Modelworld 2012 with 3 locos, Hymek, Class 12 and a newly completed 1/4 scale Hunslet over the weekend of 24-26 Feb and offered passenger rides to the thousands of visiting public.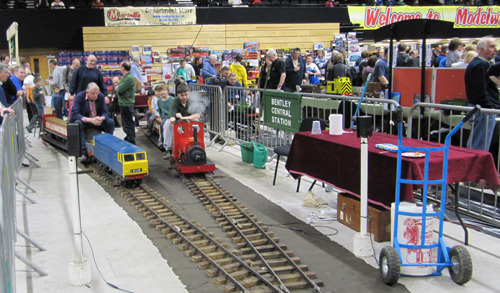 For details of previous events, please see our archive.
05 February 2012
Snow stops play... temporarily
Today much of the country woke to find a carpet of snow, Bentley Wildfowl & Motor Museum closed for the day (but will re-open as normal from the 11th Feb onwards). I thought however I'd take this opportunity to share a photo of the snow laying on our new extension linking Glyndebourne Wood with Bentley East - the first time snow has laid here on Plumpton College Bank since the extension has been started. If you want more details of the progress we are making with this extension please see our extension works page.

---
27 August 2011
New station opens
August Bank-holiday is a momentous day in the history of Bentley Miniature Railway with the opening of our 3rd station, "Bentley East". This new station allows the railway to take passengers from the entrance and play area to the Wildfowl park and gardens as well as our existing services to Glyndebourne Wood. A shuttle-style service will operate for the remainder of 2011, it is hoped that a full circular service will be opened for Easter 2012 with an official opening in the summer. The below photo shows loco Rhian on a test service prior to the line opening to the public.

---
9 July 2011
Summer Fete's
The last 3 weekends have seen three consecutive events for the club with Nutley Village Day, Heathfield Parkside School Fete and Uckfield Festival back-to-back. The club's enhanced model of Bentley Miniature railway, now incorporating the extension which is nearing completion attended all 3 events and attracted a lot of public attention as did the portable track which attended Nutley and Heathfield with Lewes Castle and Class 12 taking it in turn to provide passenger hauling for these events, a rare occurrence as this was Lewes Castle's first appearance away from Bentley and Class 12's first for a couple of years.
Note to event organisers, the club is already fully booked for 2012 portable track events

---
21 February 2011
Brighton Modelworld 2011
Bentley Miniature Railway took its 7 1/4" portable track complete with a collection of steam and electric locomotives including Holmside and Hymek to Brighton Modelworld recently offering the public a ride whilst remaining within the warmth of the Brighton Centre

---
29 August 2010
August Bank Holiday Specials
The Sunday and Monday of the August bank holiday saw the first services operate as a special shuttle service over the first stretch of the new extension

---
Uckfield Festival 2010
Our '009' model of Bentley Miniature Railway was on display alongside a historic Hornby Dublo railway. The historic layout was part of a competition won by Chloe Harland. The correct answers being that it dated from 1938/1939, cost around £3.10s (&pound3.50 in new money) and is now worth around £525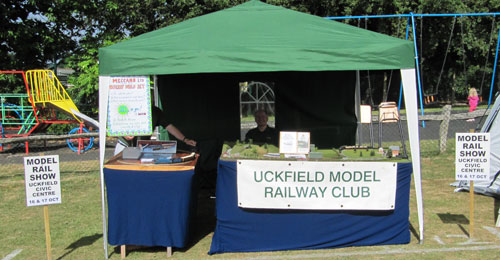 ---
25 June 2010
Nutley Village Day 2010
The club enjoyed another bright and sunny outdoor portable track event (our only one for 2010). Bluedog provided motive power and was accompanied by an updated "Bentley in miniature", the club's N & 009 gauge model of the railway.

---
5th-6th June 2010
Bentley Miniature Railway Silver Jubilee
The railway celebrated it's 25th anniversary with a party weekend including exhibition, cavalcade of locos and guests.
Photo gallery from 25th Anniversary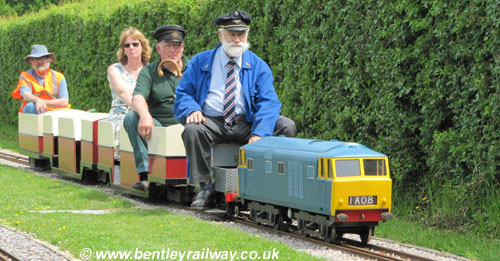 ---
14 Feb 2010
Modelworld 2010
Modelworld 2010 brought the railway a step closer to the future with the visit of "Titan" the robot who was no doubt somewhat perplexed as what a 19th Century design of steam engine is doing in his electronic future. The loco's running this year were Holmside, Jasmine and a Metropolitan Electric.

---
24 Dec 2009
An exciting Christmas present for the railway
Bentley Miniature Railway today received a pleasant Christmas present from Wealden District Council with the confirmation that planning permission (subject to conditions) has been granted for an extension to the railway which will allow us to operate trains to the entrance of the Wildfowl reserve taking the total line up to around 1 mile in length. It is hoped that we will be able to start operating a minimal service late in 2010, watch this space for more detail soon.
---
23 Dec 2009
Christmas at Bentley
New for Christmas 2009, Bentley Miniature Railway provided special festive train rides after-dark in the run-up to Christmas as part of the celebrations which also involved a snowcat ride and a visit to see Santa in his woodland grotto. The weather even lent a hand by adding 2" of snow for the final 5 days but unlike British Rail this didn't interrupt services - Happy Christmas everyone.

---
28 Aug 2009
Goliath Returns
After 5 years sitting idle, Goliath, the most powerful electric loco to run at Bentley has made the journey from Blackpool to visit us for the late August Bank Holiday and is expected to operate all 3 days.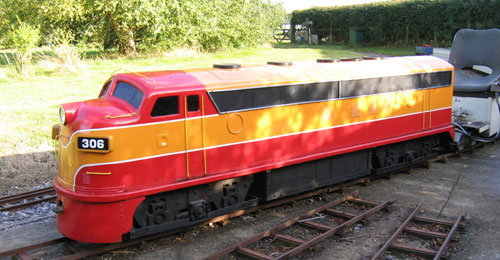 ---
27 June 2009
Nutley Village Day 2009
This was the clubs only outdoor portable track event for 2009 and was blessed with a bright and sunny day. Bluedog again provided the motive power and was accompanied by 'Bentley in miniature', the club's N & 009 gauge model of the railway.

---
17 June 2009
Drivers Eye View of Bentley Railway
Youtube now carries a video tour of Bentley Miniature Railway from a drivers perspective.

---
17 May 2009
First run for Scots Guardsman
Today saw the first run of a brand new loco, a club member has spent the last 8 years constructing "Scots Guardsman".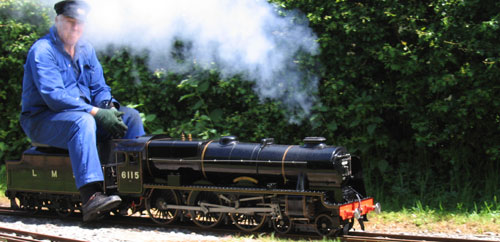 ---
10 April 2009
Easter 2009
Easter traditionally marks the start of the summer season at Bentley Miniature Railway and this year is no exception with the majority of the track renewals recently completed and a new 4 car tram unit completed and offering it's first public passengers rides this weekend - photos to follow.
14 September 2008
Weald WoodFair
Bentley held it's annual Weald WoodFair this weekend and was bathed in sun for all whole three days leading to a bumper attendance, unfortunately all the staff were too busy operating the railway to take any photos to show the 6 or 7 trains which ran at capacity almost all day for both Saturday and Sunday.
---
12 July 2008
Uckfield Festival Big Day Out 2008
Bluedog attended this event as a static exhibit accompanied again by our scale model of Bentley Miniature Railway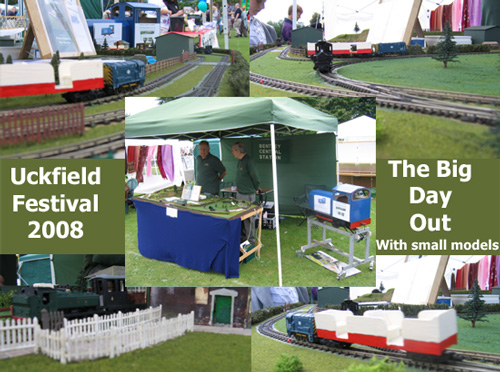 ---
30 June 2008
Nutley Village Day 2008
The clubs only outdoor portable track run of the year was again at Nutley and was blessed with pleasant weather by contrast to 2007's downpour. Bluedog took the strain again acompanied by an '009' scale model of Bentley Miniature Railway.

---
06 April 2008
Snow at Bentley
Weather caused services to be curtailed today. In the space of about 2 hours all the snow shown in the photo below fell.

---
17 March 2008
Blue Pullman Visit
Today Bentley Miniature Railway was visited by The Blue Pullman. This unique Petrol Hydrostatic driven train manufactured by Mardyke Miniature Railways in 2006 did a number of laps despite the day being wet and windy. We hope to see it again later in the year.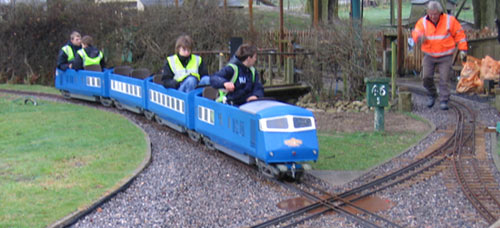 ---
15-17 February 2008
Brighton Modelworld 2008
Modelworld brought all the fun of the fair to the Brighton Centre in February 2008, as part of the celebrations for 30 years of Modelworld. Aside from Daleks trying to hijack the trains, the weekend went well including our interactive guards van and daily running by Rhian, Doreen and the Metropolitan Electric.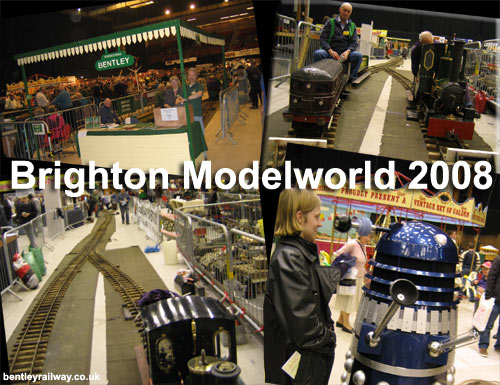 ---
8 September 2007
Uckfield Steam Gala Day
To celebrate 40 years since the closure of the Uckfield-Lewes railway line the Wealden Line Campaign held a gala day at Uckfield Railway Station on 8th September 2007. Despite the late cancellation of 'Tangmere' the event was surprisingly popular and gave 'Baby Bentley' a third event to attend this year on behalf Uckfield Model Railway Club and Bentley Miniature Railway.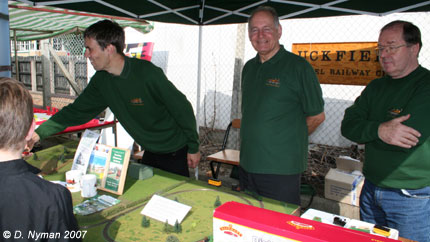 ---
21 July 2007
Uckfield Festival Big Day Out
The club again had a stand at the Uckfield Festival with "Baby BMR" in operation and Bluedog as a static exhibit.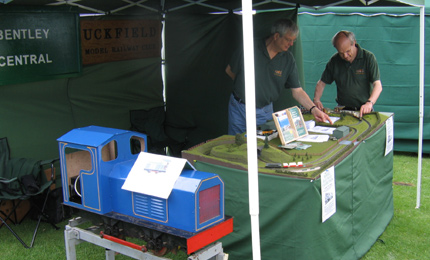 ---
30 June 2007
Nutley Village Fete 2007
We again attended the Nutley Village fete with both our portable track, using Bluedog and "Baby Bentley". Sadly the event was spoiled by the worst weather for over 20 years.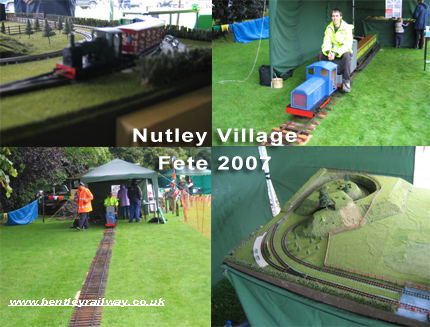 16-18 February 2007
Brighton Modelworld 2007
February 2007 saw us take our portable track to the Brighton Centre, the locos attending this year were:
Rhian - 71/4 narrow gauge steam loco
Metropolitan Electric - 7 1/4 standard gauge electric
Hymek - 7 1/4 standard gauge electric
The stand ran East-West as opposed to the common South-North direction and included some additional engineering exhibits.

---
22 July 2006
St. Peters & St. James Hospice 2006
A new event for the club timed to replace the traditional running at The Uckfield Festival. This local Hospice has been supported by the club for several years and this year we took it one step further by running as part of their summer fair. The track was approx 100ft in length and again featured the loco 'Bulldog Spirit'. A few photos of the event are shown below.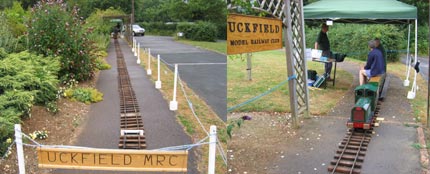 ---
24 June 2006
Nutley Village Fete 2006
Saturday 24th June 2006 saw our club portable track exhibited at the Nutley Village Fete. Our motive power was again provided by our longstanding exhibitonist, 'Bulldog Spirit', which was kept busy running, in the heat, on probably the clubs longest portable track configuration for some years, in excess of 200ft in length. We also had Baby Bentley which at times had even more people watching it than queing up waiting for a train ride. A small collection of photos taken during the day are ashown below.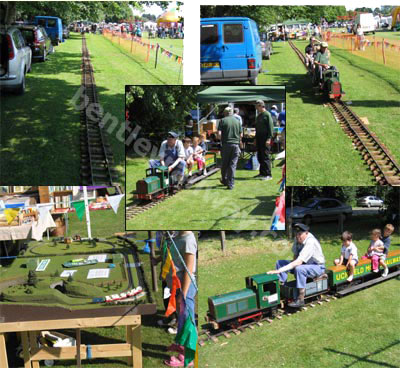 ---
Inclement Weather!
Whilst Bentley normally benefits from a very pleasant eco-climate, everywhere can suffer at the hands of mother nature, as a little light relief, below are a couple of photos taken after a particularly heavy storm in late May which despite all our drainage efforts led to water levels above the rail head. Thankfully it was the right type of rain and so services continued unabated.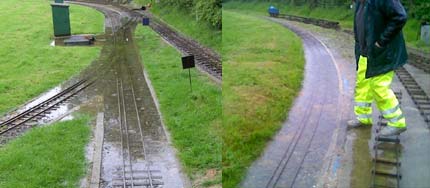 ---
17-19 February 2006
Brighton Modelworld
As has become a recent tradition, we took our portable track and a collection of locos including:
Lorna
Bill Powell
Dock Shunter Jenny
Beyer Peacock HYMEK
to the Brighton Centre over the three days 17th-19th February 2006 to offer public passenger rides in an unusual 'C' shaped track formation..
This was also the first public display of the modelling sections new '00' layout "Netherhall & Fletching", which was on display alongside the portable track.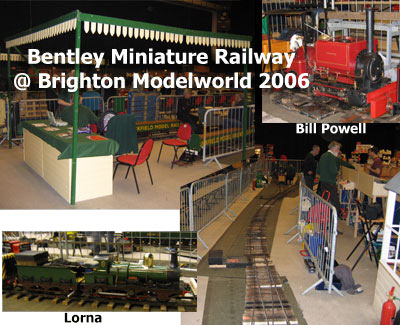 ---
Uckfield Festival 2005
Just a couple of weeks after the Nutley Village Fete, the portable track was in operation for a second time this summer. This time back running on the regular spot in Luxfords Field as part of the Uckfield Festival 'Big Day Out'. The railway ran without problem for the few passengers who ventured up to see us, and unusually, Baby Bentley, the HOe model of the club's miniature railway at Bentley Wildfowl, drew as much attention as the 71/4 inch models. A few photos from the scrapbook are shown below: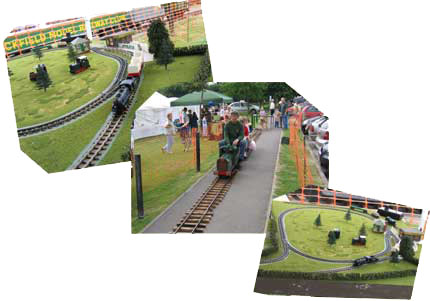 ---
Nutley Village Fete 2005
On Saturday 25th June 2005, we attended the Nutley village fete for the clubs first grass based portable track run in many years. The show is well established as a respected local fete. The day dawned bright and warm, with a light wind, despite the heavy rain and thunderstorms the previous night. The day went well and both the model railway and the miniature one operated without fault, Bulldog was in passenger service throughout the day, fresh from the 20th Anniversary outing (see item below). A photo montage is below.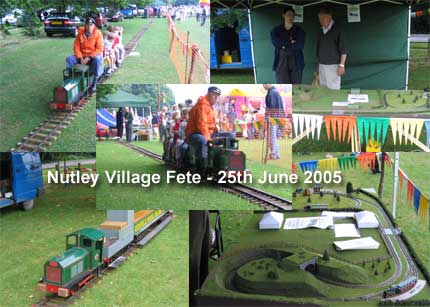 ---
20 years of Bentley Miniature Railway
Over the weekend of the 4th/5th of June 2005 we celebrated the 20th Anniversary of Bentley Miniature Railway with a series of locomotive cavalcades. Further details, including a gallery of photos are available
---
Re-opening of Bentley Miniature Railway - Easter 2005
There were many celebrations when on 25th March 2005 Bentley Miniature Railway re-opened to the public following the well documented sale of the estate. A bumper turn-out of locos over the bank-holiday weekend welcomed the public back to the centre and started with a full 10 day running period. The railway is now looking forward to celebrating it's 21st year of operation on the site with a cavalcade of locos over the 4th/5th June. This also saw the first running of the Tram 'Lady Helen' and the new 'Hymek' battery electric loco at Bentley (as shown in the the photo montage below).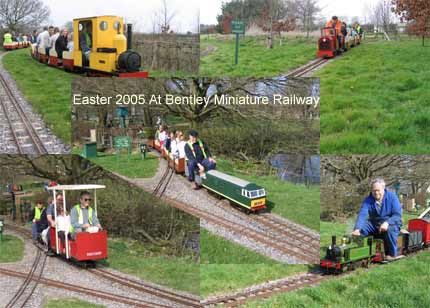 ---
Bentley Miniature Railway at Brighton Modelworld 2005
From the 18th to 20th February 2005 we again attended the Brighton Modelworld exhibition with our 7 1/4" portable track.
This event saw several unusual locos running for the club including the the first public running of the clubs new tram engine, which was much liked by the younger visitors, especially as they were able to ride at the front of the train. Also in attendance was a first Modelworld outing for 'Doreen', a 7 1/4" loco which has only once run at Bentley, (and that during the non-public steam efficiency trials several years ago). We also saw a brief run due to technical difficulties from 'Grandpa Joe' and the return of 'Jenny' the dock shunter first shown at Brighton in 2004.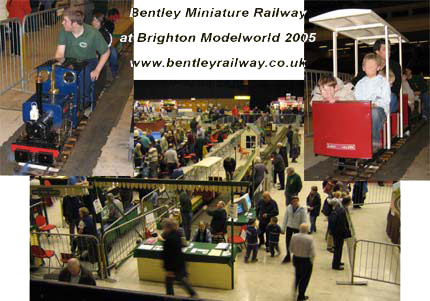 ---
Bentley Wildfowl and Motor Museum safe for immediate future
Following the closure of Bentley in September 2004, we are glad to be able to say that we understand that the sale by East Sussex County Council back to the Askews (who originally ran it some 20 years ago) of their holding in Bentley, was completed on 30th September 2004.
Furthermore, we now understand that in January 2005 the Askews completed an agreement allowing the operation of the centre for several years to come, and we are hopeful that we will be able to be a part of the new arrangement. More details will be posted here as soon as we are able.
---
Final running day of 2004
September 26th 2004 saw the final running day of 2004 at Bentley and followed close on the heals of the Weald WoodFair, the busiest weekend of the year. Aided by the pleasant Autumnal weather, a bumper crowd were present to celebrate the last weekend opening of the centre under the ownership of East Sussex County Council, pending the much publicised sale of the estate back to its original owners.
The railway ran with up to 4 trains during the day and it was noted that Bentley Central Station had queues of passengers awaiting rides even half an hour after the official last ride of the day at 5:00. No-one went home without a ride however, and a few were fortunate enough to enjoy a double run finale.
Please check our Open Days page for further details of the exhibitions which we will be attending this winter.
---
Uckfield Festival Big Day Out 2004
Once again, the club attended the Uckfield Festival's Big Day Out on Luxford field in the middle of the town with our portable track, this time it was also joined by a model of the railway at Bentley Wildfowl in miniature. The weather was not quite so kind as some previous years which affected the number of passengers carried, but the spirit of the show was unaffected and a donation was given to the festival organisers to be split between several local charities. More information on the Festival can be found at www.uckfieldfestival.co.uk

---
Brighton Modelworld 2004
Over the 13th-15th February 2004 we took a weekend out of our works schedule to exhibit at Brighton Modelworld. We had 4 locos running at various times during the weekend including a test for 'jenny', a new prototype dock shunter electric loco (left inset) and a welcome return by 'Hercules', the club loco which has been out of action for the last 2 years (inset right).
Below is a photo taken at an unusually quiet moment which allowed the platform staff to swap notes.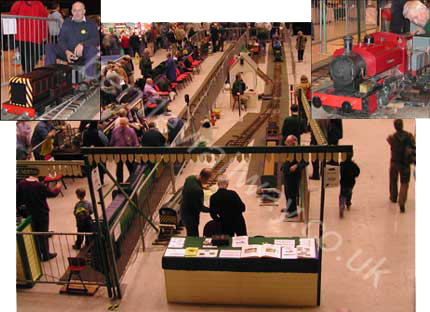 ---
Uckfields Big Day Out 2003
As with 2002, Uckfield Model Railway Club laid out approximately 100 feet of their portable track across the top of Luxfords field. This year we managed to carry just over 300 passengers in beautifully hot and sunny weather as you can see from the photo below. Again, we donated 1/3rd of our takings to the festivals charities and were even included in some of the local newspaper coverage.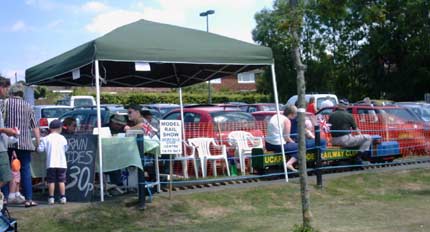 ---
Brighton Modelworld 2003
Friday 14th to Sunday 16th of February 2003 saw us running our portable track right through the centre of the main hall in the Brighton Centre. A welcome (and warm) break from the muddy work at Bentley (see the works update for more information on this). We carried slightly fewer passengers than in 2002 although this is thought to primarily be due to the 2002 exhibition co-inciding with the local schools half-term. The four locos which ran were Lorna, Class 12, Bill Powell and Hymek.