Bentley Railway's 2018 operating days
The calendar below shows the planned days of operation during 2018.

All dates are scheduled weather, maintenance and staff permitting.

Operating hours:
(green) Peak service days; 11:00am-5:00pm
(yellow) Off-peak service days; 11:30-4:00pm.
(red) Special events days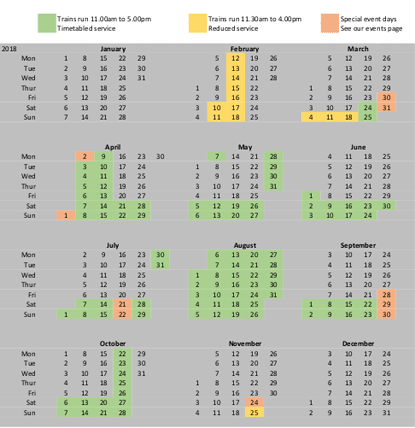 The above calendar is subject to essential maintenance, weather conditions and staff availability, so cannot be guaranteed. This calendar will be updated regularly during the year so please check back for the latest information
Events
Bentley plays host to a number of events during the year, everything from one-make car rallies to regional music festivals.
The railway also hosts it's annual Standard Gauge weekend with visiting loco's over the 21st & 22nd July 2018.
Other events in the park during 2018:
14/15 July - Brainchild Music & Arts Festival (all-ticket)
4/5 August - Chilled in a Field family music festival (all-ticket)
25-27 August - Miniature Traction Engines
28-30 September - Woodfair
24 November - Christmas Fair
If you would like to hire the railway to complement an event which you are planning at Bentley then please contact us.
During events up-to-date information can be found on our Facebook page