Around the Railway Site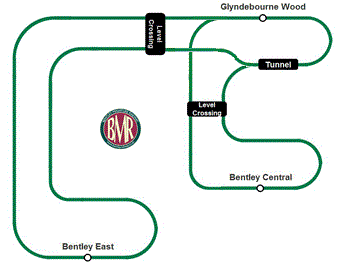 Track layout of Bentley Miniature Railway

Bentley Central is the main hub of the railway and the station building, located between the arrival and departure platforms, is also where tickets are often sold from on busy days

Bentley Central Signal Cabin, this is where all the signals and points on Bentley Miniature Railway are controlled from (there is an additional signal box located at Glyndebourne Wood used on peak days). As you can imagine on busy days this is not a place for the faint-hearted.

Glyndebourne Wood Station has a signal cabin and water/fuel facilities to assist with the operation of the railway on busy days such as WoodFair or during Santa Special services. This is also the station where Branching Out Adventures customers arrive and depart.
Bentley East Station, this station is nestled in a remote, secluded, location of the railway. Since the closure of the wildfowl park services only stop here except by arrangement.

The rolling stock sheds are used to house the railway's fleet of carriages and other rolling stock at night and although locos are privately owned and thus not stored at the railway some spares can be seen residing in the shed during the day