News and Events Page
This page keeps you up to date with news at the railway - for the enthusiast, and for those wanting to visit the railway. For details of scheduled forthcoming events please see our open days page.
You may also wish to check our Facebook page for the latest information.
---
November 2019
Christmas 2019 - Don't miss out!
Don't miss out on our Santa Special 2019. Our Elves are busy preparing for Santa's arrival. Four days have already sold out with a further four days with limited availability, don't be dissappointed. We are excited, are you?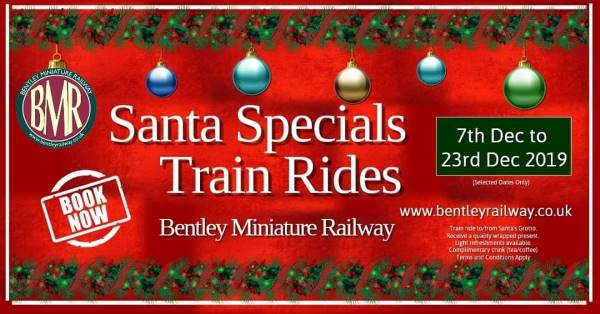 ---
October 2019
Uckfield Model Railway Exhibition 19th/20th October 2019
This weekend we attended the Uckfield Model Railway show at the Civic Centre, Uckfield. We were very pleased to display our 7¼" gauge model of the Class 66 diesel taking pride of place in the entrance foyer, and delighted to speak to many f you who came along to support the event.

Christmas 2019 - Bookings now open!
We are pleased to announce that tickets for the Santa Special's are now on-sale via this website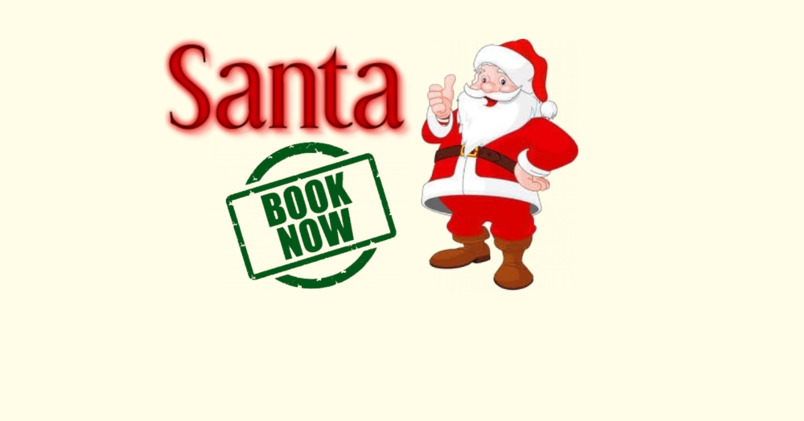 ---
September 2019
Christmas 2019 - Santa is coming back to Bentley!
From the many emails and messages we've received, you are all excited to see Santa again in his Winter grotto in the Bentley wood. We are pleased to confirm he will be stopping off again this year to see you all before he makes his round the world trip on the 24th. Dates will be announced late October, when we will be able to start taking bookings. Watch this space, or our Facebook page for details as they are announced!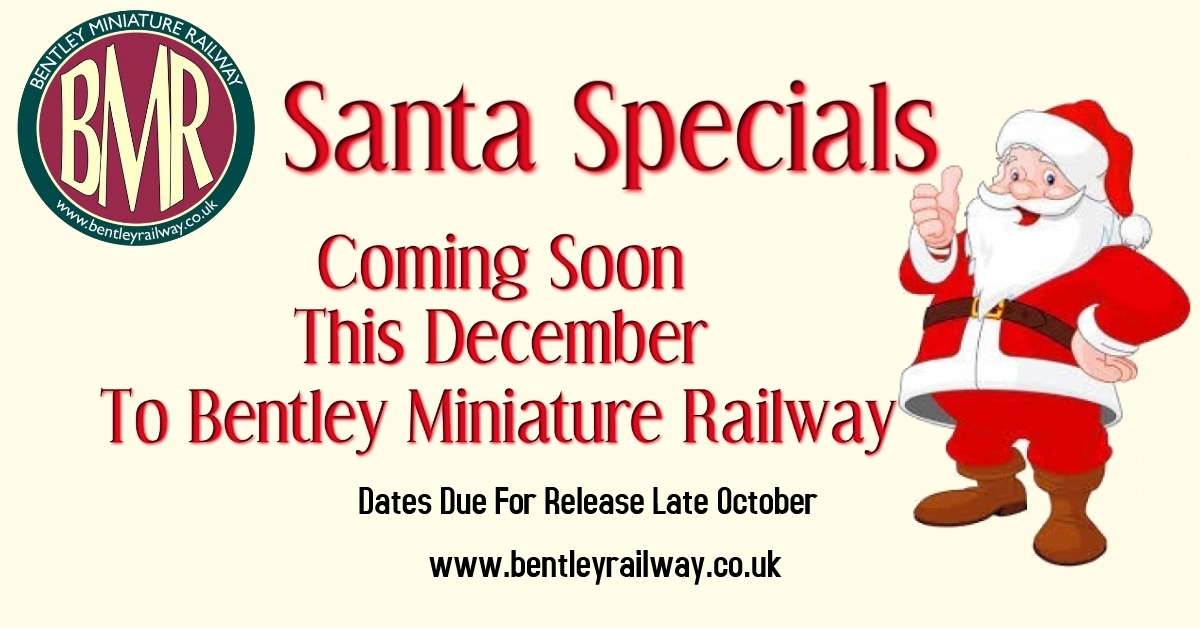 Bentley Woodfair - This weekend
This weekend (Friday 20th - Sunday 22nd September) sees the return of the Bentley favourite "Woodfair". Now in its 23rd year, this event will see Bentley Miniature Railway running an intensive service from both main stations for Woodfair visitors.

Diesel Gala
Our last gala event of 2019 was our Diesel gala, with 10 locomotives running at one point over the day. It was nice to see two visiting locomotives from the "Swanley new barn railway" running alongside a number of our more local members locomotives that have not seen much passenger action this year. Lets hope they will all be back again in 2020! Below are a few images from the event.
---
August 2019
Diesel gala - 8th September
This is our final gala of the year, wehere we will see a number of our diesel locomotives haulling passengers around our mile circuit. We hope to see a number of visiting locos to run alongside our regular fleet of both standard and narrow gauge locmotives. Trains will run from 11am to 5pm, and we shall be offering our unlimited ride tickets at just £5 per person. Come and join us at this fun event, with free arts and crafts area for the children (weather permitting), and our tuck shop will be open for hot and cold drinks, and snacks.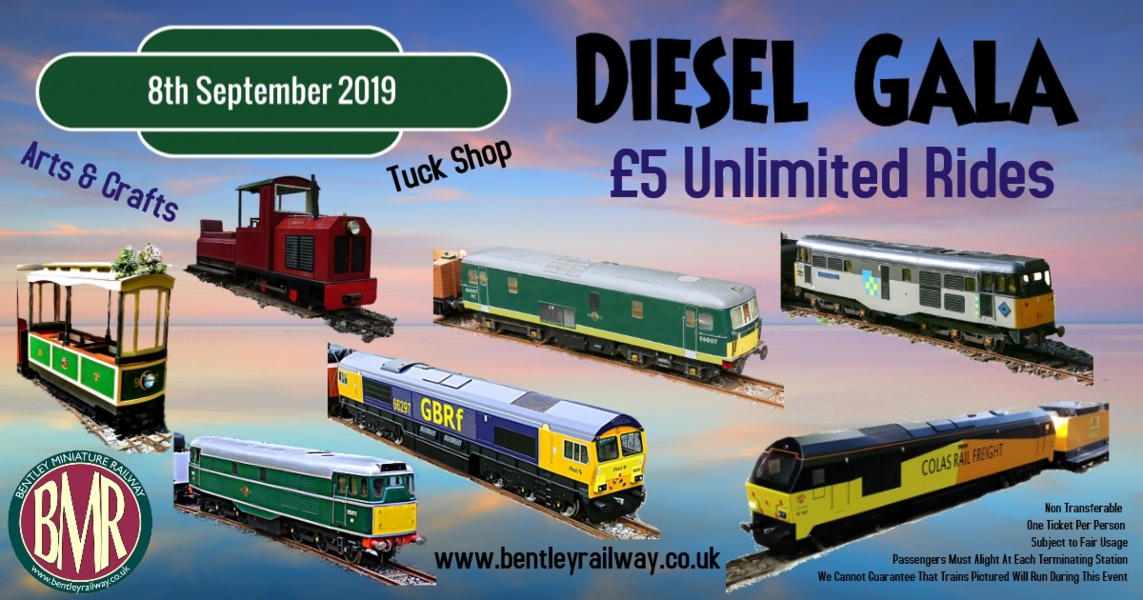 Narrow Gauge weekend
This weekend saw our first Narrow gauge weekend at Bentley Railway, and we would like to thank all our drivers, many who travelled long distances to transport our passengers over the weekend. We thoroughly enjoyed ourselves, and hope our passengers did too. Below if a few images of the locomotives we had running over the two days.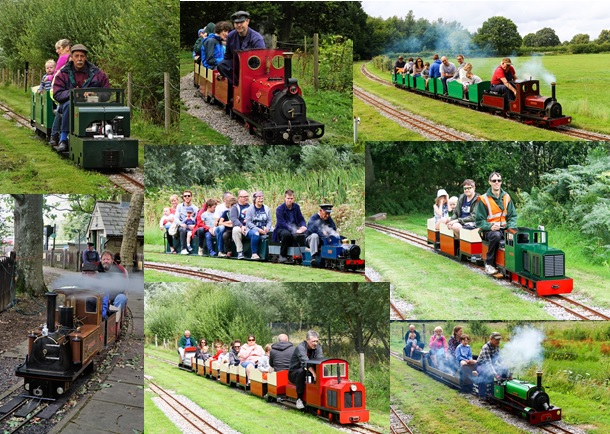 Narrow Gauge weekend - 10th/11th August
The 10th/11th August will see us host our first Narrow gauge railway gala. We currently have 3 visiting locomotives each day, including one from the Netherlands. Due to popular demand, we will again be offering unlimited rides for £5 per person, with a chance to ride behind a number of steam and diesel locomotives. Further information will be available on our facebook page. Trains run from 11am till 5pm each day. We will also have our new tuck shop open serveing well earned snacks. Free arts and crafts area for children to entertain themselves between train rides. Unlimited rides are offered one per person, and not transferable. Fair use policy applies.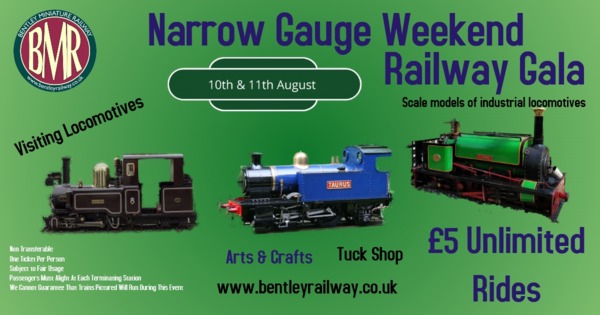 ---
July 2019
"Chilled in a field" festival - 27th/28th July
The annual music festival "chilled in a field" returned over the 27th/28th July, only at this event do we get a band playing on board the train! Thanks to "The Conquering Heros" for enteraining the train crew.
"Brainchild" festival - 13th/14th July
This weekend saw the railway welcome many visitors attending the "Brainchild" music festival held within the grounds of the Bentley Estate. We hope you all enjoyed the event, we certainly our members had fun, including running a double headed train with Desmond and Black Swan providing the motive power.
---
June 2019
Standard Gauge weekend - 29th/30th June
The 29th/30th June will see Bentley host its third standard gauge weekend. Following the success of our unlimited ride offer during the recent Steam gala, we will be repeating the offer for this event. We will have multiple locomotives running, including steam, diesel, passenger and freight locomotives - further information will be available on our facebook page as visiting locomotives confirm attendance! Can you ride them all with our unlimited offer? Running 29th and 30th June from 11am till 5pm. We will also have our new tuck shop open serveing well earned snacks. Free arts and crafts area for children to entertain themselves between train rides. Unlimited rides are offered one per person, and not transferable. Fair use policy applies.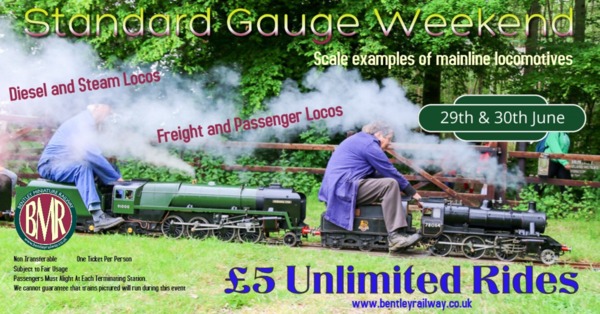 ---
May 2019
Steam Gala - Great weekend enjoyed by all!
Bentley Miniature Railway held its first Steam Gala on Sunday 26th May. At one point there were 7 trains running on the railway, all with passengers aboard. Over 150 visitors took up our offer for unlimited rides during the day, and many took full advantage travelling on every train. The afternoon was completed with a locomotive calvalcade which can be seen on our Facebook page. Below is a small selection of some of the locomotives in action.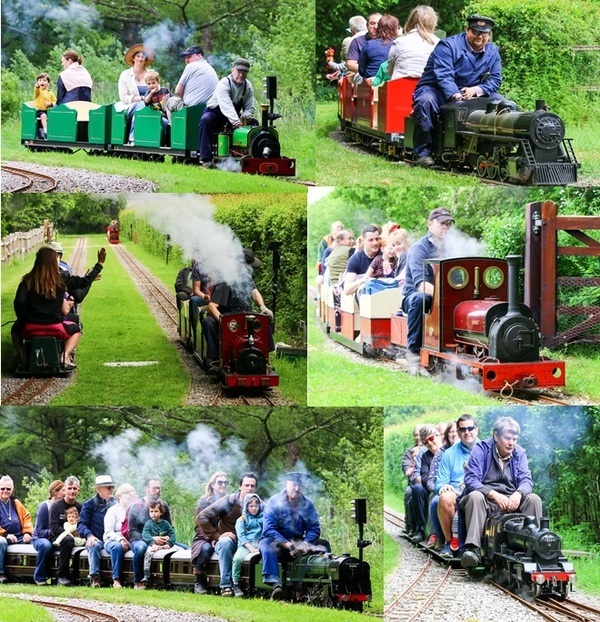 Steam Gala announced - 26th May 2019
New to 2019, we are hosting our first Steam Gala later this month. Currently we have 5 steam locomotives intending to run all day, with a number of others still to confirm. Once we have a line up known it will be published here, and on our Facebook page. Trains are running from 11am till 5pm with day rover tickets available.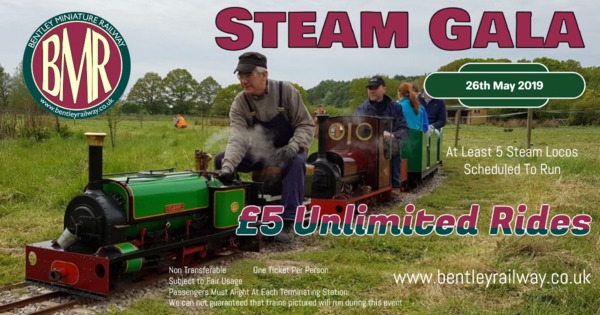 May Day Weekend
34 years ago this weekend, the last rail joint of the then multigauge short circuit of track was finally completed, as seen in this photograph recently unearthed by one of our members. It's interesting to note that at least two of these members are still regularly involved in the railway maintenance, along with the wheelbarrow!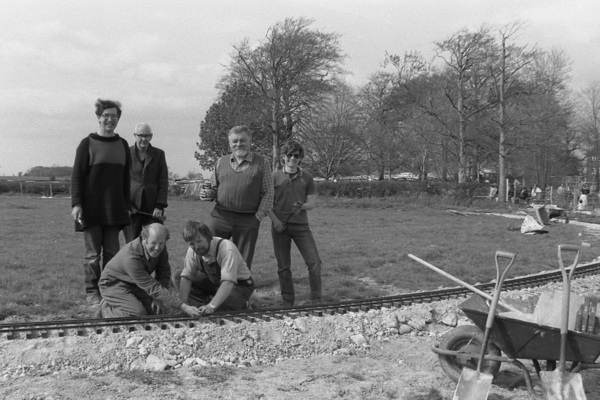 ---
April 2019
Easter Weekend
Following our successful first Easter Egg hunt based from Bentley Miniature Railway, we thought you might like to see some of the pictures from the weekend!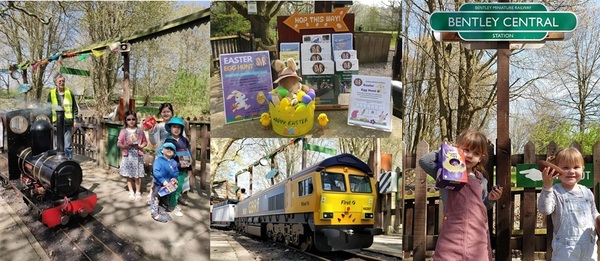 Dont forget to like our Facebook page to keep up to date with our new railway events this year as they are announced.
---
March 2019
Easter Egg hunt
Bentley Miniature Railway are pleased to announce new to 2019, an Easter Egg hunt around the railway and surrounding area. Open to passengers aged 16 and under, hunt down the clues around the railway to discover where you can collect a chocolate prize!,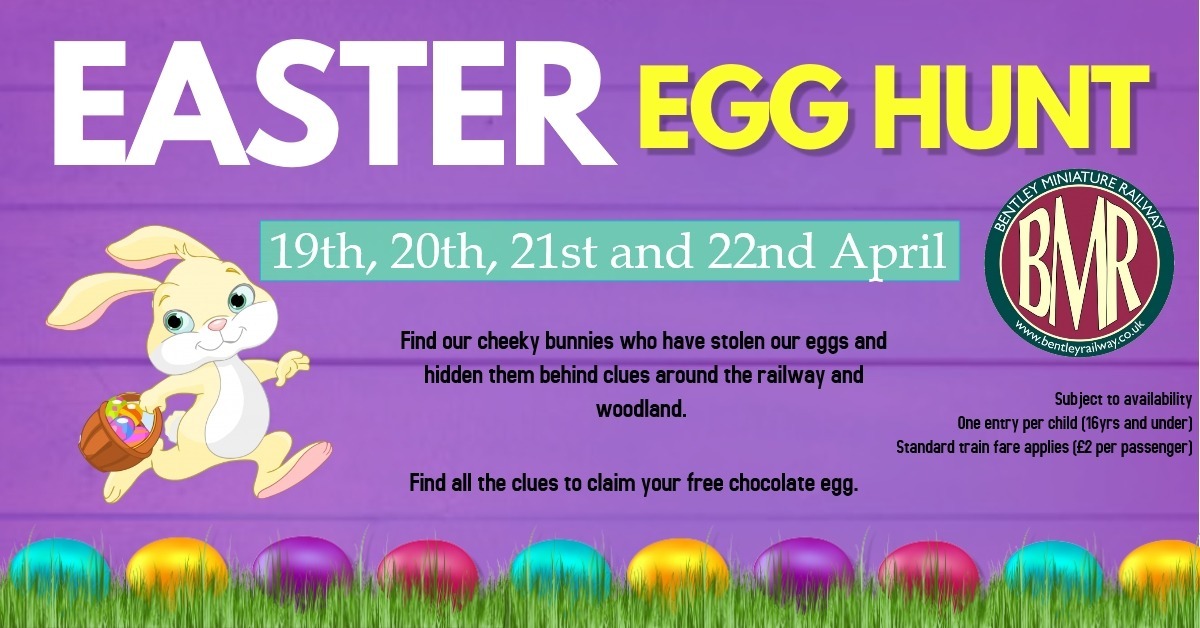 ---
January 2019
Santa Special's
Following a successful 11 evenings transporting excited children to woodland to see Santa in his grotto, our elves managed to grab a quick photo with Santa himself before he collected his reindeer, and embarked on his round the world delivery mission.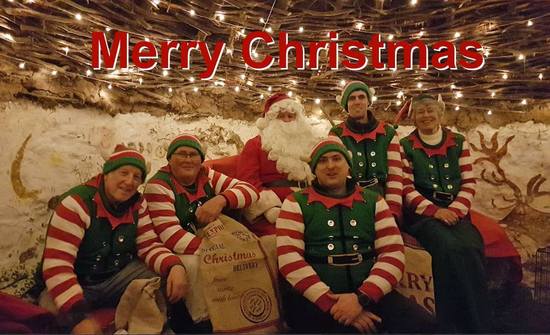 Bentley Miniature Railway volunteers are now turning their attention to the regular Winter maintenance, in order to keep trains running throughout the Summer, and therefore the railway will be closed until March. Keep watching our Facebook page for details of any additional running dates.
---
December 2018
Santa Special's
Bentley Miniature Railway is proud to announce that on 11 dates between the 8-23rd December 2018 we will be operating a Santa Special including the popular Woodland Grotto that has been such a hit in recent years but with some extra special touches to add to the magic this year.
This event is now fully booked. We look forward to welcoming all the families who have booked this experience.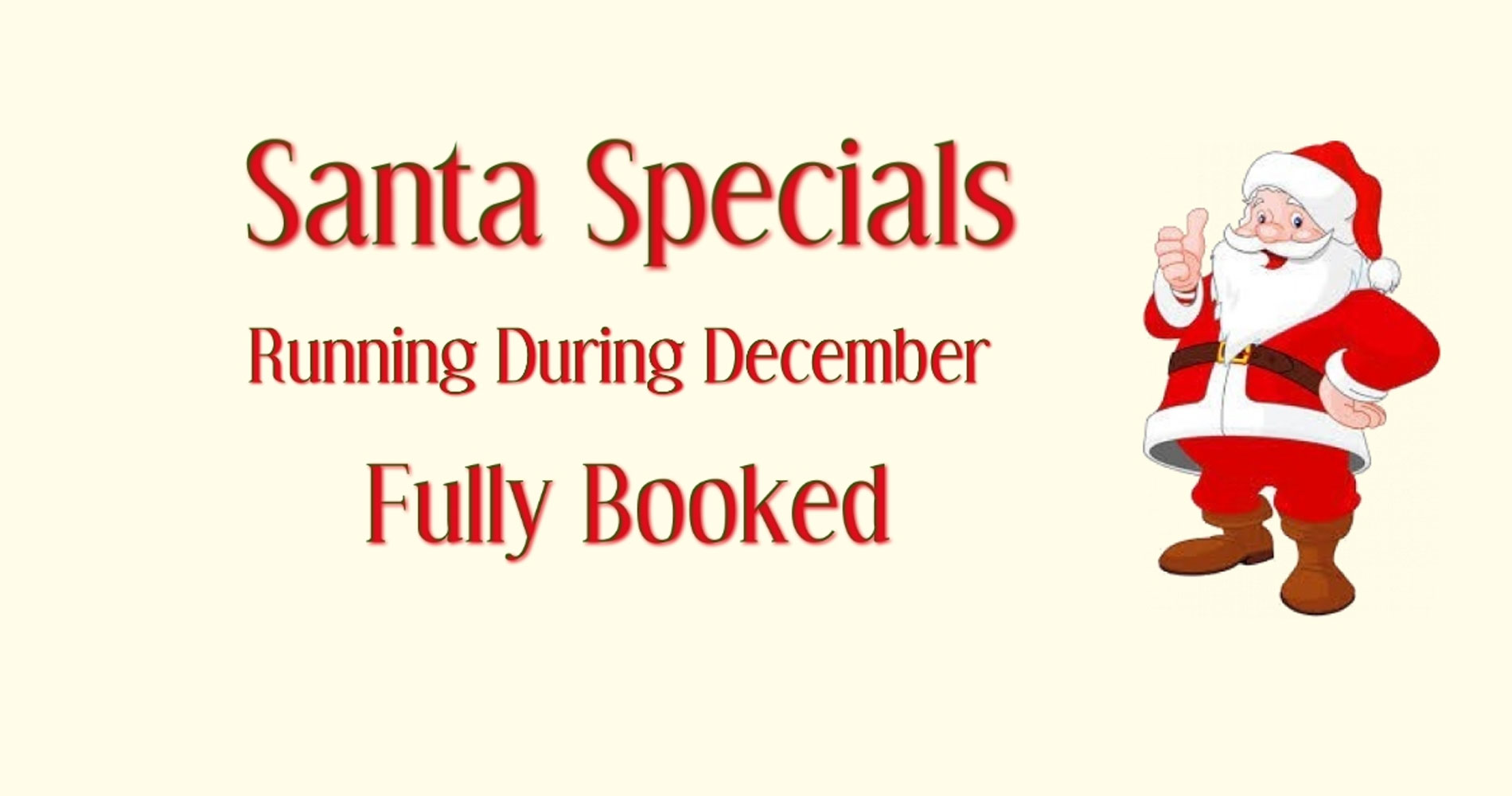 ---
October 2018
New running dates announced

Following changes within the Bentley Estate, we are now pleased to confirm we will be running trains every weekend from 27th October to Christmas 2018.
A new temporary station entrance will be available at Bentley Central for use while the Park is closed, and train rides may be enjoyed around the full mile circuit. Why not stop off at Glyndebourne Wood Junction, and visit Branching Out Adventures.
Please note, during this time, our Bentley East station will be closed, and you will not be able to join, or alight from the train here.

---
September 2018
Bentley East Station

Construction and groundworks at Bentley East have recently been completed to provide this new 2 track station with ticket office. The station will be open at weekends subject to staff availability.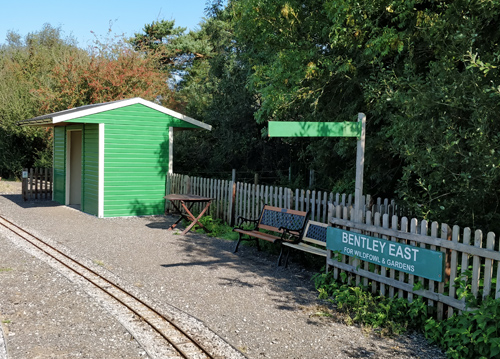 ---
August 2018
August Bank-Holiday Miniature Steam Weekend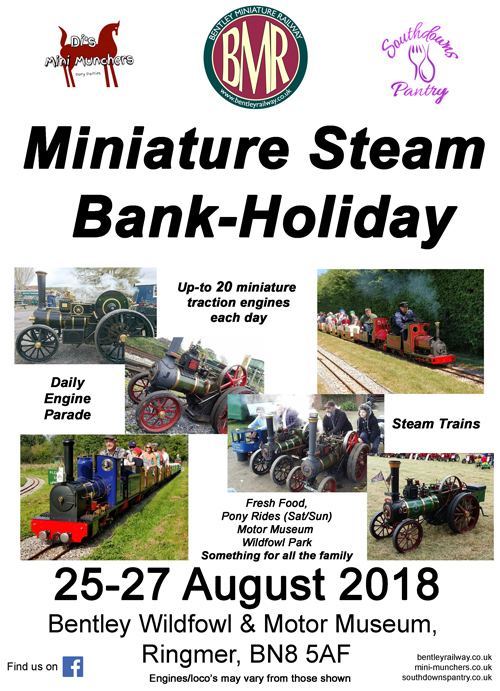 ---
July 2018
Standard Gauge Weekend 21/22 July 2018
The line-up for this coming weekend's standard gauge event is taking shape with a line-up to include the below (subject to availability on the day).
Black 5
Britannia
Toby Tram
Class 66
Hymek
We're hopful that we may have 2 Britannia class loco's running on Sunday which will be a first for the railway.
---
June 2018
Standard Gauge Weekend 21/22 July 2018
Following on from the, somewhat weather affected, success of our 2017 Standard Gauge weekend, the railway will again be hosting a Standard Gauge weekend in 2018 with a selection of visiting locomotives for the weekend. More details will be posted on our Facebook event nearer the weekend.
---
July 2017
Standard Gauge Weekend 29/30 July 2017
The railway will be hosting it's inaugural Standard Gauge Weekend with a gala of locos both regulars and a selection of visiting friends from around the country with their loco's. We're hoping to have around 10 visiting loco's, full details of the line-up will appear here shortly, you can also see our Facebook event
We will also be offering exclusive discounted multi-ride tickets for this event.
---
New building at Bentley East
Around Easter 2017, we will have in place a new, and more substantial building at our Bentley East Station. It will have a ticket office, and it will have a seating area for members of the public to sit and shelter from the rain or the sunshine. It will look something like this....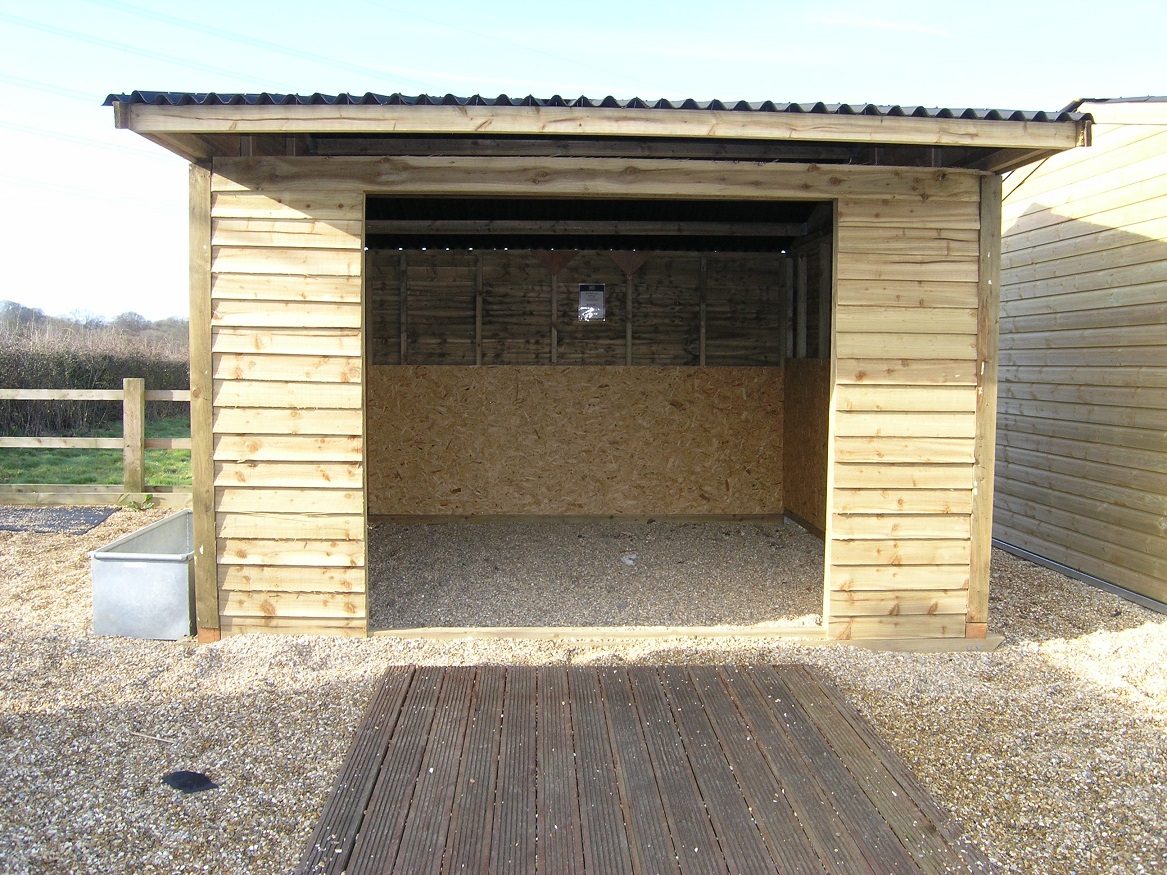 ---
December 2016
Christmas At Bentley 2016
Santa again visited Bentley in the run-up to Christmas this year with a pony accompanying visitors on the walk to the railway where a specially fitted out train with lights and decorations awaited, upon arrival at Glyndebourn Wood Santa's elves were ready to escort children and their families up to see Santa in his woodland Grotto before returning. Please note that this event is ticket only and often sells out so please get your tickets early.

---
September 2016
Woodfair 2016
The traditional curtain call for the summer season at Bentley is Woodfair and 2016 didn't disappoint with good weather on each of the 3 days and a high attendance. This was also the railway's first opportunity to test it's new signalling communication system linking the signaller at Bentley Central with Glyndebourne Wood Signal Box and I'm pleased to report this worked flawlessly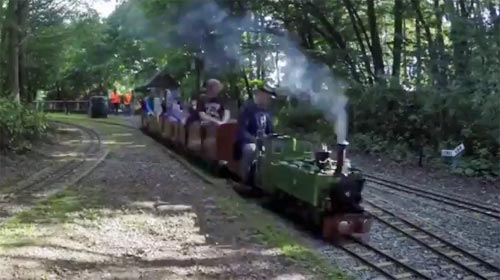 ---
August 2016
Into The Wild Festival
This new event for 2016 is the final festival of the year and saw a massive attendance of over 3,000 people most of whom camped within the grounds for the duration of the bank-holiday weekend. The railway was extremely busy as a result, we hope all the visitors enjoyed themselves.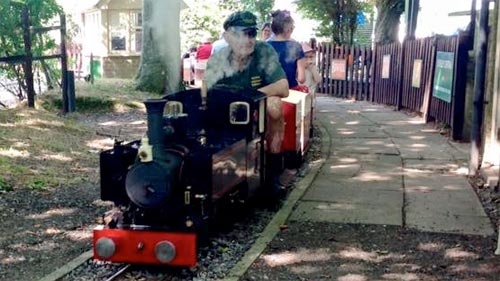 ---
April 2016
Beltane Fire Festival
A new event for 2016, the Beltane Fire Festival is a relatively small festival with music and events for it's festival-goer's bringing some life and colour to start the summer season here at Bentley. The team will also be back later in the year for the Into the Wild Gathering over the August bank-holiday weekend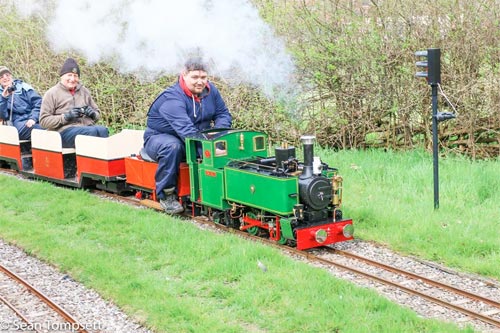 For details of previous events, please see our archive.