Bentley Miniature Railway is sorry to announce this year's Santa Special Train Rides are all now fully booked.
We have maintained a waiting list which itself is now quite large, and so we have decided to stop taking further requests that we just will not be able to accomodate.
If you have already booked with us, you should have received a confirmation email, and additional information email in the last week. This offers additional guidance in relation to COVID measures, and arrival information. If you have not received these emails, please check your SPAM folder, as we have become aware a number of our emails have been considered as spam by some automated filters.
If you are already on our waiting list, and a space becomes available we shall contact you by email, and by text (if you have provided these contact details).
Please remember that your booked time, is the time that you will be collected from the Reception by your Elf, so please arrive at least 10minutes beforehand.
If any person in your group is suffering from COVID symptoms, we ask that you do not attend, and contact us by telephone on 0845 224 1823 (or 07579 771877 on the day) and we will try to accomodate alternative slots.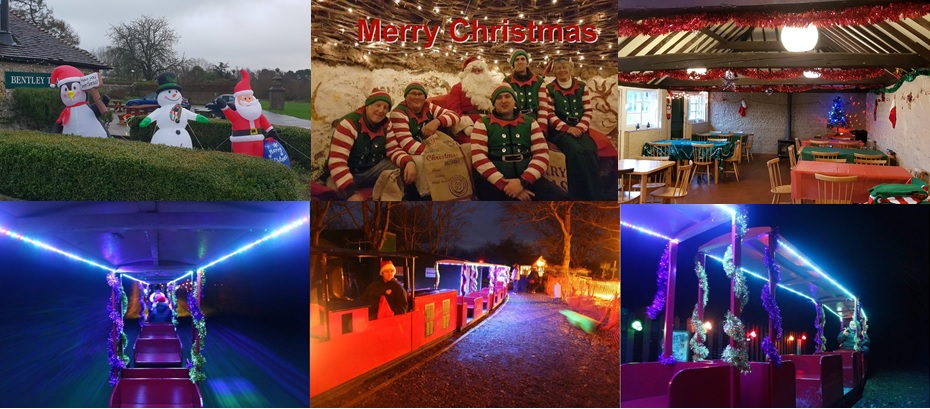 Last updated Tuesday 1st December
Facilities
Tea's, coffee's, and hot chocolate will be available from our reception building, along with a selection of mince pies, festive biscuits, and confectionary. A selection of arts and crafts will be available to occupy the little ones while they wait for the elf to collect them to see Santa, along with accessible toilets.
Meals may also be pre-booked at the on-site cafe through our friends at The Stables, a short walk from the railway - book through their Facebook page.
Questions?
If you have any other questions, check out our Frequently Asked Questions, or feel free to contact our Santa coordinator by email at santa@bentleyrailway.co.uk, or by telephone on 0845 224 1823
Accessibility
We strive to ensure the experience is accessible to as many people as possible, however there are some limitations due to the size of our trains, meaning we are unable to carry wheelchairs. The experience also includes a short walk over woodland pathways. If you have a disability, or concerns regarding this, please contact us first to discuss your specific requirements.
Please also ensure you wear appropriate footware for the conditions - while every effort is taken to maintain a firm footpath, it can become quite muddy during inclement conditions.
Cancellation Terms
We regret that there can be no refund for 'no show' customers.
Cancellations notified in writing, at least two weeks before the booked date will be refunded; shorter notice cancellations are not entitled to a refund but Bentley Miniature Railway will try to re-sell the tickets.
Bentley Miniature Railway reserve the right to cancel the running of trains in extreme weather conditions or for other operational issues. This is for safety reasons, and the decision by our Duty Manager is final.
GDPR
Bentley Miniature Railway will only store your details for the purposes of this year's Santa Special. If you consent, we may hold your details electronically to allow us to contact you for other Railway events. We will not share your information with any third party.
PLEASE NOTE
Please only include children you wish to receive a gift, if you are bringing a child aged 1 or under, who you do not wish to receive a gift, please just include this in the additional information box at the bottom of the form.
Booking as a Group?
Do you wish to book your experience at the same time as another family? To ensure we can accommodate you, please can you book as one group where possible - we can invoice you separately if you prefer, just add this in the additional information area. In this way we can make sure we allocate the whole slot to you, rather than potentially splitting your group
COVID-19 changes (updated December 1st)
The recent updates in the current situation with the latest COVID-19 varient has led us to review our plans for the operation of trains during this event. We will continue to monitor the situation, and ensure that relevant precautions are undertaken to keep you, and Santa, safe this year. We ask that you wear face coverings (unless exempt) when you are in our reception (unless eating/drinking) and when inside the Grotto. Our Elves will wear masks to reduce the risk of transmission between groups, sanitiser will be available at regular intervals, and we will be asking our staff to take Lateral flow testing before attendance, and we ask that you have done the same where possible.