News and Events Page
This page details previous events and news items, for details of scheduled forthcoming events please see our open days page.
7 June 2015
30 Years of Bentley Miniature Railway
Over the weekend of the 6th & 7th June 2015 Bentley Miniature Railway celebrated it's 30th anniversary since it's opening day back in 1985. There are several members who were involved with the railway back during it's first inception who were also present for this weekend and long with them some locos such as the Class 73 and a rare visit by Remus both of whom could be seen in photos taken on that first day and are still in the same ownership today. To mark the occasion a cavalcade of locos paraded around the railway late on Saturday before an informal members gathering.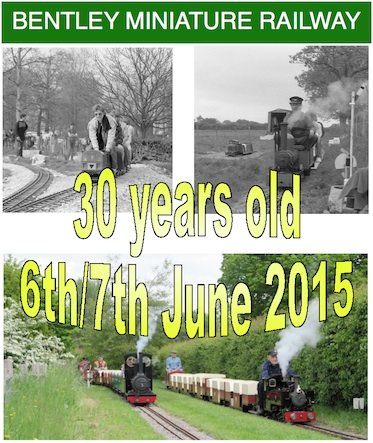 ---
29 June 2013
Nutley Village Day
The railway attended the annual Nutley Village Day fete which was the first outing for the recently rebuilt Lewes Castle running a busy service on the hottest day of the year so-far. Lewes Castle ran at Nutley back in 2011 (see photo further down this page) but has since been partially rebuilt and repainted and is likely to be seen both at other publicity events such as the forthcoming Uckfield Festival and running at Bentley later this summer.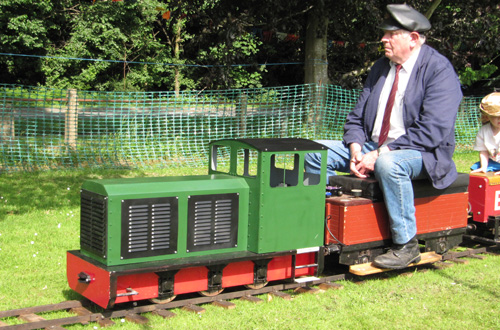 ---
1 April 2013
A new loco "Ruston"
Easter seems an appropriate time to welcome a new member to the Bentley family of locomotives and despite the date, this is no April fools, "Ruston" is a new loco built mainly on-site by our junior section, under the watchful eye of our more experienced members utilising many recycled components and a number of others fabricated on-site. This battery electric loco is likely to be used primarily for departmental purposes such as training and hauling freight trains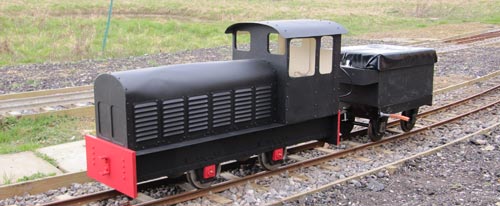 ---
28 March 2013
Easter is coming
Easter is early this year with Good Friday being 29th March 2013. The railway will be running all 4 days to mark the start of our summer season, if the weather is nice we hope that our local teddy bears will come and enjoy a picnic again this year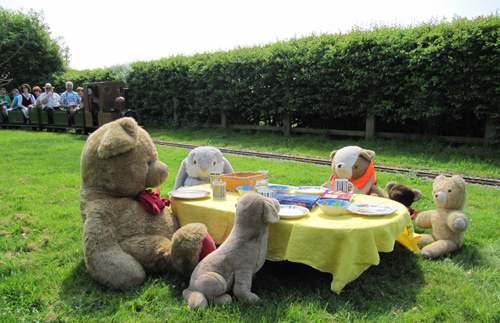 ---
30 June 2012
Nutley Village Fete
The club attended Nutley Fete again this year with a Class 12 which provided passenger rides to the shows visitors on a beautiful summers day.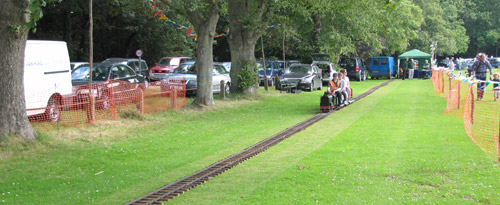 ---
26 February 2012
Brighton Modelworld 2012
The club attended Brighton Modelworld 2012 with 3 locos, Hymek, Class 12 and a newly completed 1/4 scale Hunslet over the weekend of 24-26 Feb and offered passenger rides to the thousands of visiting public.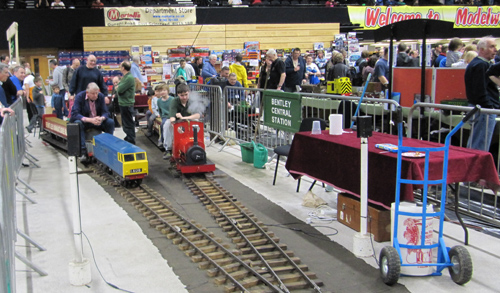 ---
05 February 2012
Snow stops play... temporarily
Today much of the country woke to find a carpet of snow, Bentley Wildfowl & Motor Museum closed for the day (but will re-open as normal from the 11th Feb onwards). I thought however I'd take this opportunity to share a photo of the snow laying on our new extension linking Glyndebourne Wood with Bentley East - the first time snow has laid here on Plumpton College Bank since the extension has been started. If you want more details of the progress we are making with this extension please see our extension works page.

---
27 August 2011
New station opens
August Bank-holiday is a momentous day in the history of Bentley Miniature Railway with the opening of our 3rd station, "Bentley East". This new station allows the railway to take passengers from the entrance and play area to the Wildfowl park and gardens as well as our existing services to Glyndebourne Wood. A shuttle-style service will operate for the remainder of 2011, it is hoped that a full circular service will be opened for Easter 2012 with an official opening in the summer. The below photo shows loco Rhian on a test service prior to the line opening to the public.

---
9 July 2011
Summer Fete's
The last 3 weekends have seen three consecutive events for the club with Nutley Village Day, Heathfield Parkside School Fete and Uckfield Festival back-to-back. The club's enhanced model of Bentley Miniature railway, now incorporating the extension which is nearing completion attended all 3 events and attracted a lot of public attention as did the portable track which attended Nutley and Heathfield with Lewes Castle and Class 12 taking it in turn to provide passenger hauling for these events, a rare occurrence as this was Lewes Castle's first appearance away from Bentley and Class 12's first for a couple of years.
Note to event organisers, the club is already fully booked for 2012 portable track events

---
21 February 2011
Brighton Modelworld 2011
Bentley Miniature Railway took its 7 1/4" portable track complete with a collection of steam and electric locomotives including Holmside and Hymek to Brighton Modelworld recently offering the public a ride whilst remaining within the warmth of the Brighton Centre

---
29 August 2010
August Bank Holiday Specials
The Sunday and Monday of the August bank holiday saw the first services operate as a special shuttle service over the first stretch of the new extension

---
Uckfield Festival 2010
Our '009' model of Bentley Miniature Railway was on display alongside a historic Hornby Dublo railway. The historic layout was part of a competition won by Chloe Harland. The correct answers being that it dated from 1938/1939, cost around £3.10s (&pound3.50 in new money) and is now worth around £525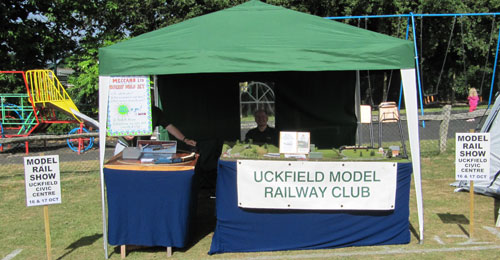 ---
25 June 2010
Nutley Village Day 2010
The club enjoyed another bright and sunny outdoor portable track event (our only one for 2010). Bluedog provided motive power and was accompanied by an updated "Bentley in miniature", the club's N & 009 gauge model of the railway.

---
5th-6th June 2010
Bentley Miniature Railway Silver Jubilee
The railway celebrated it's 25th anniversary with a party weekend including exhibition, cavalcade of locos and guests.
Photo gallery from 25th Anniversary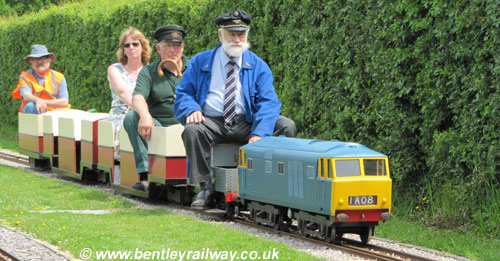 ---
14 Feb 2010
Modelworld 2010
Modelworld 2010 brought the railway a step closer to the future with the visit of "Titan" the robot who was no doubt somewhat perplexed as what a 19th Century design of steam engine is doing in his electronic future. The loco's running this year were Holmside, Jasmine and a Metropolitan Electric.

---
24 Dec 2009
An exciting Christmas present for the railway
Bentley Miniature Railway today received a pleasant Christmas present from Wealden District Council with the confirmation that planning permission (subject to conditions) has been granted for an extension to the railway which will allow us to operate trains to the entrance of the Wildfowl reserve taking the total line up to around 1 mile in length. It is hoped that we will be able to start operating a minimal service late in 2010, watch this space for more detail soon.
---
23 Dec 2009
Christmas at Bentley
New for Christmas 2009, Bentley Miniature Railway provided special festive train rides after-dark in the run-up to Christmas as part of the celebrations which also involved a snowcat ride and a visit to see Santa in his woodland grotto. The weather even lent a hand by adding 2" of snow for the final 5 days but unlike British Rail this didn't interrupt services - Happy Christmas everyone.

---
28 Aug 2009
Goliath Returns
After 5 years sitting idle, Goliath, the most powerful electric loco to run at Bentley has made the journey from Blackpool to visit us for the late August Bank Holiday and is expected to operate all 3 days.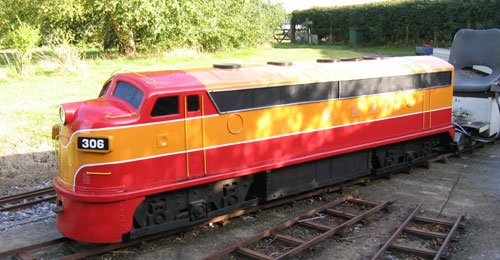 ---
27 June 2009
Nutley Village Day 2009
This was the clubs only outdoor portable track event for 2009 and was blessed with a bright and sunny day. Bluedog again provided the motive power and was accompanied by 'Bentley in miniature', the club's N & 009 gauge model of the railway.

---
17 June 2009
Drivers Eye View of Bentley Railway
Youtube now carries a video tour of Bentley Miniature Railway from a drivers perspective.

---
17 May 2009
First run for Scots Guardsman
Today saw the first run of a brand new loco, a club member has spent the last 8 years constructing "Scots Guardsman".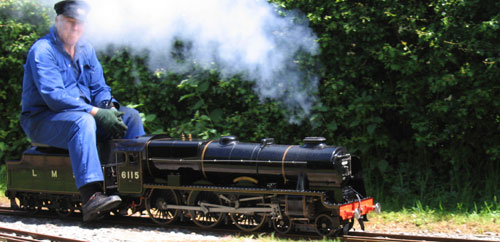 ---
10 April 2009
Easter 2009
Easter traditionally marks the start of the summer season at Bentley Miniature Railway and this year is no exception with the majority of the track renewals recently completed and a new 4 car tram unit completed and offering it's first public passengers rides this weekend - photos to follow.
For details of previous events, please see our archive.